The Apartments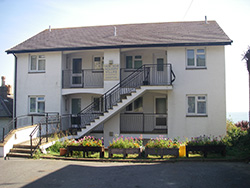 Set in a prime position in Ventnor, overlooking Wheelers Bay are the Ventnor Holiday Villa Apartments.  They are modern in style and set in a block of six each with their own balconies to take in the panoramic seaview.  The Apartments have their own parking to the front. 
There are two apartments on each floor, each one has two bedrooms (one double and one twin) a bathroom with shower,  kitchen, living/dining area.
2 minute walk to the local Spar
2 minute walk to the green
10 minutes walk to Ventnor beach and shops
10 minutes walk to great places to eat
The Apartments are open all year round and are available for short winter breaks.
Above: Inside the Apartments and the view from the lounge balcony.
Below: Apartment kitchen, bedrooms and bathroom